Staff: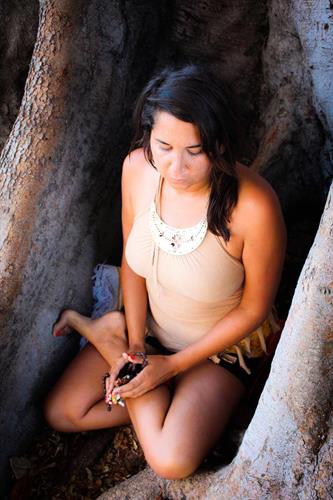 Shawna is the founder and creator of Yoga With Shawna. She has created a powerful place that offers various healing services to the community along with providing internship experiences for her students in her certification programs.
Shawna or Yoga With Shawna Graduate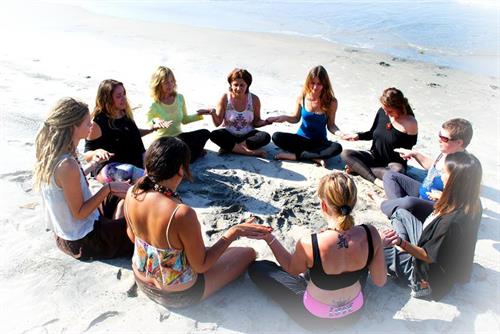 Join Shawna or one of Shawna's graduates in an aum-azing experience!
Stephanie Navarro is a Registered Yoga Teacher (RYT-200) in Hatha Yoga, Vinyasa Yoga and Meditation for the Yoga Classroom. She completed her official registered yoga certification course, accredited through the Yoga Alliance, in 2021 at Yoga With Shawna in San Diego, CA. Stephanie has practiced various styles of yoga since 2015 and credits her practice as fundamental to her self-healing journey. She became a RYT to share the practice of yoga with people so it may act as a gateway to improved holistic health, mind-body awareness and peace. Committed to inclusivity in the yoga asana, Stephanie offers group classes and private lessons for all levels. She is experienced in guiding students through modifications and her approach is personalized to each student so they may experience the many benefits of yoga. A forever student, Stephanie enjoys expanding her knowledge on topics including: history of yoga, yoga anatomy, yoga psychology, the mind-body connection, the 8 Limb Yoga Path, t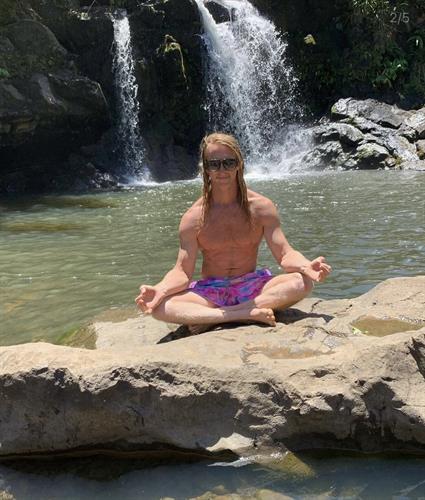 Certified in Hatha + Vinyasa Yoga, John is also an avid rock climber and lover of hiking and sailing, He loves music and creating classes that are strong and making people feel energized.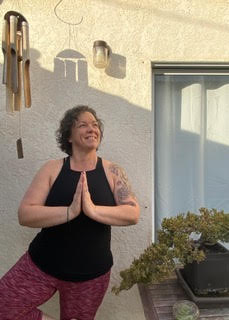 Kim was born and raised in Southern California, and has been a working mother for over 25 years. Yoga found her about a year ago, and it has changed her life forever. It has brought a beautiful mind, body and spirit balance that has helped her truly experience the peace and joy of life. Now she spends her time hoping to help others find the happiness, wellness and sense of fun that yoga has helped her find. It is time to enjoy life!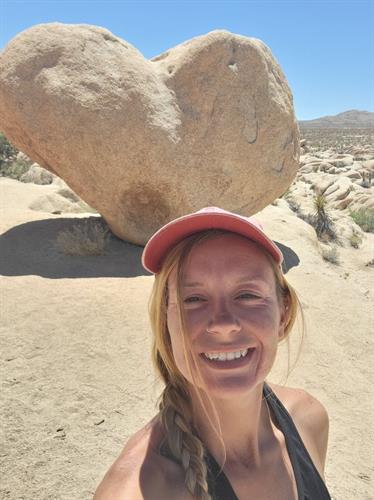 Amber began taking yoga classes consistently in 2020. At the time she was in constant pain and was desperate to find a way to heal. She immediately noticed a difference in her body, and soon after, her mind. Yoga became a way of life, not just an exercise. She completed her teacher training in June of 2022 and now she wants to share the healing power of yoga with as many people as possible. Her classes focus on strength and mobility through Vinyasa style flows.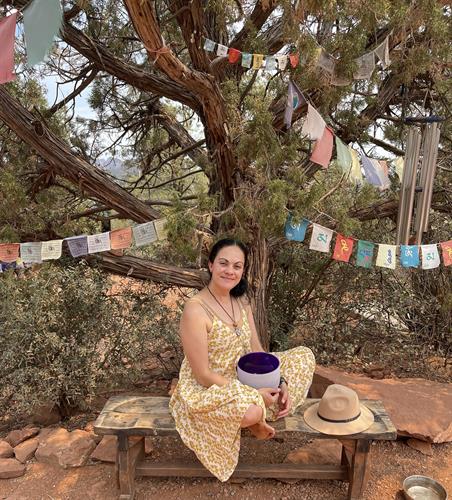 Eleana started practicing Yoga 16 years ago. She found in yoga lots of healing, peace, inner strength and renovation. She started teaching 3 years ago and she loves to share this medicine and any type of practice with others. She is certified Yin Yoga, 200 hours Hatha + Vinyasa, Sound Healing,Reiki level I,II,&III, Advanced 300 hours, and Meditation+Mudras through Yoga with Shawna.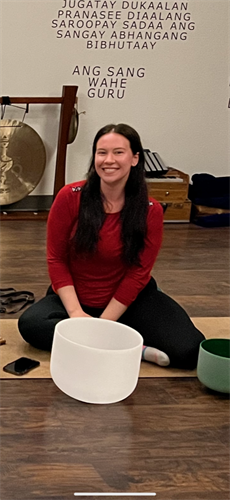 Hannah is a yoga and meditation teacher with a background in energy work, body work, and plant medicine. In her classes, she strives to help everyone explore their practice in a way that's honors their body, brings peace, and promotes emotional and spiritual healing.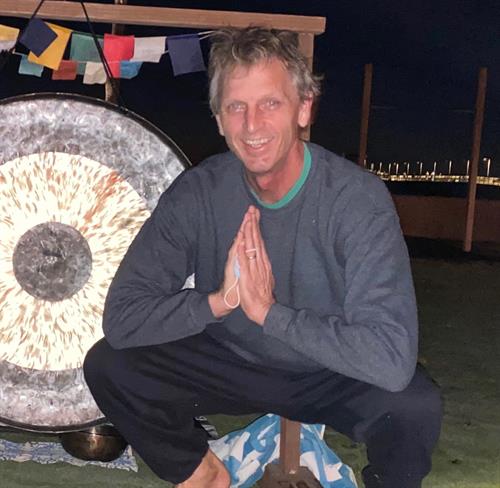 Bob is a lifetime San Diego resident who has practiced yoga since a 2019 back injury. He is a certified yoga teacher and sound healer, and enjoys spreading the 'good vibes.'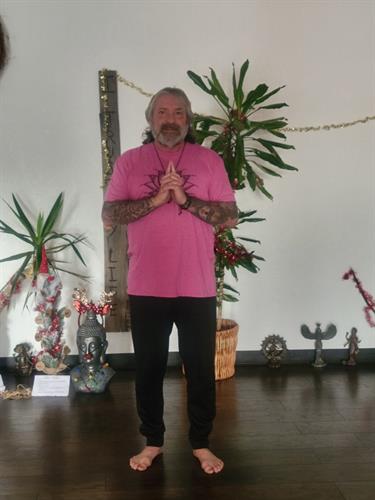 Robby started taking yoga five years ago at Yoga with Shawna. Three and a half years ago he received his yoga teacher certification, and then his sound healer certification. His classes focus on restorative, gentle yoga, incorporating sound and meditation with an emphasis on breath work.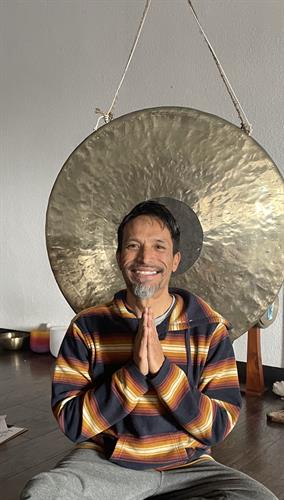 Life long Imperial Beach local surfer, Isaac found his calling when Yoga w/ Shawna first opened up in 2018. fell in love with yoga ,became a member and did it every day, He then took his 200 hour YTT (won the scholarship. At first he was taking the training to heal himself not really interested in teaching but realized it was his passion & came natural to teach and help others and has been teaching at YWS for 4 years! Isaac is very involved in community wellness also a surf instructor for the Surf Hut.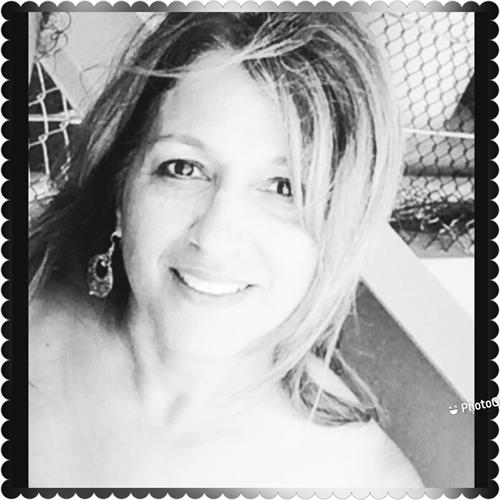 Mary's journey began 10 years ago after a life changing event where she was introduced to the art of meditation and journaling. Then In 2022 she received a certification with Yoga With Shawna in Mudra Meditation (hand gestures) which further enhanced her peace, joy and purpose in life.Her purpose is to enrich the lives of the community through meditation, journaling, and mudras.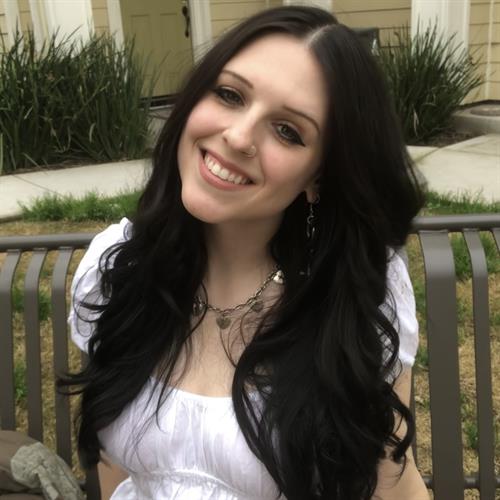 Meg is an artist, musician, and teacher of both Hatha and Vinyasa yoga. She loves integrating music and art into yoga and meditation. She strives to foster growth and creativity, as well as mind and body alignment.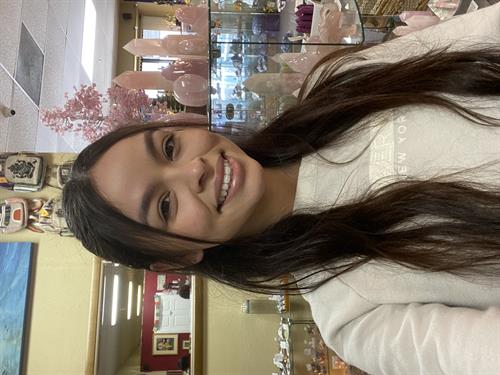 Ariana began taking yoga classes just a year ago. She received her yoga teacher certification March 2023! Her classes focus on calming, gentle, and restorative yoga.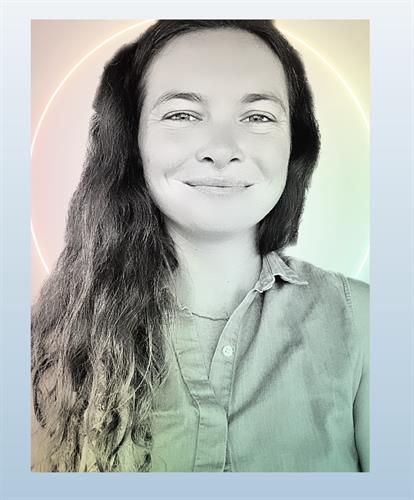 My name is Bree. I am a gentle flow/restorative teacher who implements slowness into our community practices. It is the upmost importance to me to provide a safe and healing class where you can check out and tune into your body's physical and emotional needs. I believe taking the time to incorporate conscious breathing with slow movements allows ourselves to surrender to the present moment leaving us in a state of gratitude. Namaste.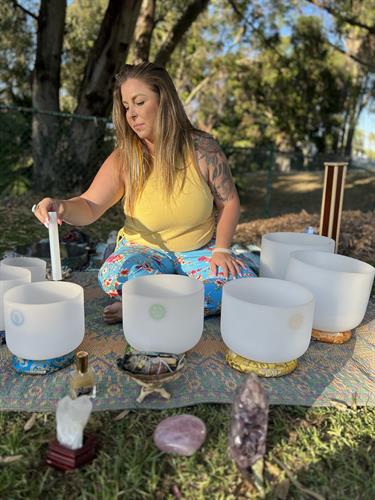 Sound Alchemist, Usui Reiki Practitioner, meditation guide and Crystal Healer. After completing her Associates in science in respiratory therapy, Fernanda transitioned to a more holistic approach to healing. Her journey started a lot like many of yours... Fernanda began feeling called to pursue her intuition and felt a great calling to crystals, even though she didn't have a lot of knowledge about them. This didn't deter Fernanda, and she began investing time tuning into her intuition and learning how crystals could aid her spiritual growth. Fernanda noticed that she had a growing calling to heal herself and share her knowledge with others to help with their healing journey. Fernanda then moved into buying crystal chips to create intention candles. This is what started Fernanda's journey, as she began to source more crystals and spiritual healing objects following her intuition alone. Fernanda knew her own journey could resonate with many others, and decided to trust the Universe and the path that it was showing her. She followed by getting a reiki certification 1 and 2, following by finding Yoga with Shawna where she became a Sound Healer and meditation teacher. Fernanda loves helping the community to grow in their intuition and is passionate about helping others through ancient wisdom modalities such as reiki, crystal healing, meditation and sound healing sessions. She has been practicing in the studio and in her own practice since 01/2023. Fernanda empowers others to follow their instinct and embark on their spiritual healing journey every single day. On your journey to self-repair, she will guide you to connect with your self, while embracing spirituality, balance, and self love. You will feel empowered to let go of crippling past emotions, deepen your heart and soul connection, and live a richer, more fulfilling, and healthy life. It's this authentically true love and passion for her intention to educate and empower men and women to heal themselves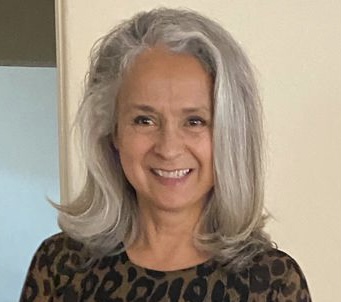 Laura says, "I have practiced yoga often on, my entire life. Nowadays, I am retired and I am ready to do what I love, yoga. Now is my time and for me, this is practicing yoga for life." She is happy and honored to be your teacher!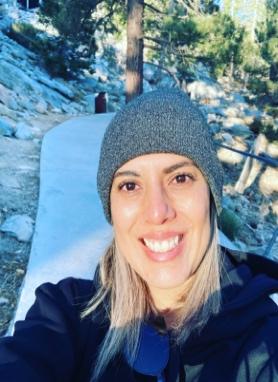 Yadira shares... "I started a beautiful journey of self-healing in 2015 that then led me to the beautiful and abundant practice of Yoga and Meditation. Through my practice of yoga, I have experienced spiritual and emotional healing that I've graciously welcomed into my life. This glorious experience led me in becoming a certified Yin Yoga and Breathwork instructor with Shawna. I believe that there is a Yin and Yang aspect to our lives that desires to find balance, guiding us to feel more aligned with our mind, body and Soul. When we allow ourselves to feel and experience this interpersonal alignment, we are able to create meaningful changes in our lives, along with healthier habits for sustainable change. I believe that Yin yoga practice will allow you to find a deep inner meaning connection within yourself that could lead to healing of your body. I am honored and happy to be part of your practice and healing journey."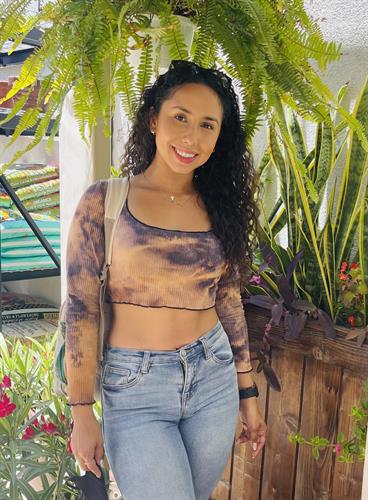 Jess Fernandez is a registered Yoga Teacher (RYT-200) specializing in Hatha Yoga, Vinyasa Yoga and Meditation along with being certified in Sound Healing at Yoga With Shawna, accredited through the Yoga Alliance in San Diego, CA. Immersed in the transformative power of yoga since 2020, Jess embarked on her teaching journey as a response to an intense autoimmune disorder that hindered her from engaging in weight training and high-intensity workouts.Through her dedicated practice, she has been able to regulate her nervous system, cultivate self-awareness, and holistically transform her body, emerging with both strength and inner peace. Jess is an advocate for a holistic approach to wellness, driven by a passion for community well-being and service.Drawing from her own journey, she seamlessly integrates sound healing, meditation, breath-work, and movement into her practice. She believes that this comprehensive approach is the most impactful way to guide her students on their transformative path to self-discovery. As a guide in the wellness space, Jess passionately explores the convergence of science and spirituality, delving into epigenetics and Quantum physics Inspired by mentors like Joe Dispenza and Wim Hof.