Staff:
Alysa has been in the hair industry since 2010. Her vision is to create the perfect hairstyle for each guest. She prides herself in listening and sharing her opinion to each guest's wants and needs. She loves education and staying up to date with trends.
Amanda has been in the industry for 12 years, and being a stylist is her passion! With a creative eye and advanced skills, she has the ability to give each client a tailored look that enhances their natural beauty.
Ashley has been in the hair industry since 2012 as a color specialist at an AVEDA salon. Providing an atmosphere that is welcoming while connecting with her clients and building trust, is important to her. She always strives to provide an exceptional experience that will leave you feeling happy and beautiful! Ashley has a strong passion for education, staying current with styles + trends, and working with clients that are looking for natural and lived-in colors by using balayage and foil techniques. When she isn't behind the chair, she enjoys snuggling her two young boys, spending time outdoors, shopping, and traveling!
Ashely has over six years of hair career experience. She enjoys creating the perfect look for platinum blondes, subtle balayages, edgy pixies, and the ideal cut for natural curls. She has advanced training in Deva cuts and even specializes in hand-tied extensions! Makeup is another passion of Ashley's, She loves making clients feel and look their best. She also specializes in enhancing looks for special occasion hair!
Bree is eager to make everyone in my chair feel absolutely beautiful from start to finish! She loves being hands-on and getting to know every one of her clients. Bree enjoys being able to execute her creativity through color and cuts to personally fit her client's every day wants and needs. Bree is certified in Brazilian Blowouts and Hand tied extensions. Outside of the salon she loves spending time with her husband and being cuddled up with her 2 cats and 2 dogs BUT she also love to dance and spend time in the summer sun!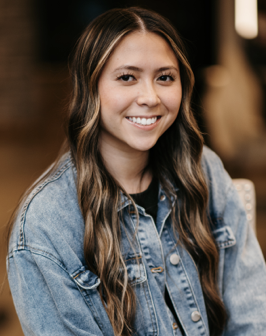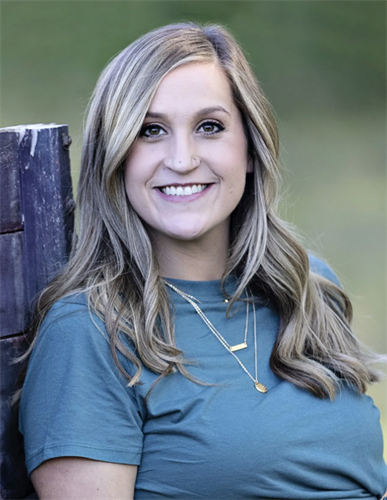 Caylin will make you feel right at home from the moment you sit in her chair. Your consultation with Caylin will exceed any expectation and allow you to relax knowing you are in great hands. Caylin specializes in artistic coloring techniques & more!
Danielle has been in the industry for over 18 years; continuous training has brought her to love cutting, foil coloring, and keratin treatments to give a beautiful polished look. She enjoys being creative, and her favorite part of her career is being able to work with people everyday.
Erin loves creating a color and haircut that is unique to the individual. She takes pride in a thorough consultation to make a plan to achieve a desired look. She loves being able to work hands-on with people to make them look and feel their very best!
Elle has been in the beauty industry for 6 years. Her passion is to make everyone who sits in her chair feel beautiful and confident from the inside out. She will give you an outstanding consultation to strive to reach your hair goals, while also being realistic on how to achieve them. Elle enjoys all color, and cutting services but especially loves mens hair, updos, and balayages.
Jenna has been in the salon industry since 2013. First starting her career in Chicago, she moved to Minnesota two years ago to continue her journey in the industry. Her goal has always been to make people feel as beautiful inside as they do on the outside. She will make you feel as if you are at home the moment you sit in her chair with her bubbly, outgoing personality. Jenna puts education at the forefront of her career and strives to continue to learn the newest trends and techniques. She loves helping her clients get closer to their hair goals every time they come in! Jenna enjoys doing all services from color to cuts to special occasion hair. She loves giving different tips and tools for you to use at home so that you feel comfortable when you're styling your own hair! Her goal is to make sure you love your hair before you leave The Salon.
Jessica the salon owner, creates versatile and precision cuts, uses complimentary and dimensional color techniques and extensions, then gives your hair the perfect style. Jessica goes the extra mile to make your cut, color, and style work for you.
With over 7 years in the industry, and 3 years of owning her own salon Kayla will tell you her passion for all things hair (and makeup) is strong! She prides myself on keeping up to date on the latest trends and techniques, as well as the latest hot gossip. Especially if it's related to anything Bravo! She is an AVID HomeGoods shopper, with a high liking to Tequila and patio weather. Mix in good food, and possibly an ocean view, and I am set! As a mom of two, my natural mothering instincts kick in when it comes to making sure you are happy, you are heard, you are comfortable, you have snacks, and a beverage during your service. But don't let my "mom life" mentality fool you. Her main goals are achieving your desired look while maintaining your hair's health, educating you on home-care products and maintenance, and making sure you leave her seat happy and satisfied.
The rest? That's all just a bunch of Hocus Pocus!
Kyle has been cutting hair for over 10 years. He started in Ohio moved to Washington DC and is now here in MN. Kyle loves cutting hair of all lengths/styles and Mens cuts too! Kyle looks forward to seeing you in his chair!
Lisa has had a long-time love affair with hair. She graduated from the Aveda Institute in 2005, but that's not where her story begins. Since the age of 4, Lisa always knew she would end up behind the chair! She would sucker anyone and everyone into being her model so she could experiment with different styles. That love has been nurtured and her skillset expanded. In her own words; "I strive to provide a warm and welcoming experience for my clients with a focus on pampering and self-care. I believe the most important part of any service is the consultation. I want you to feel heard and understood. I will work with you, the client to come up with the best cut and color for YOU. I enjoy personalizing each person's style to make it uniquely theirs, taking into account hair texture and health, and how much time the client plans to spend styling. I will take the time to be sure you can recreate the look at home and work with you on a maintenance plan that fits your lifestyle. Some of my favorite services include blonding, multi-dimensional reds, color correction, curly and precision cuts, and brow shaping." Outside of The Salon, Lisa enjoys spending time with her husband and 4 children. She also has two standard Goldendoodles who have helped her learn the hard way that she is not qualified to cut dog hair. Lisa loves concerts, coffee, reading, ATV riding and traveling.
Malia has been a professional stylist since 2013 specializing in cutting. Malia loves having a variety of hair types to work with. She especially loves working with pixie cuts, and naturally curly hair. Malia is all about working with your natural hair texture rather than fighting it and enjoys teaching clients simple ways to style at home that doesn't require a ton of time to do.
Marnie is always up for a challenge and ready to take on whatever comes her way. Marnie enjoys cuts, balayage, color and loves to leave her client's with beautiful bouncy blowouts that shine. She always stays up on the trends and education and can't wait to have you in her chair.
Meghan has been in the hair industry for over 6 years graduated from MSC in 2016 and did extensive training at the Aveda institute for 7 months after. She specializes in color and is certified in Bellami extensions. She couldn't imagine working in industry that doesn't make people feel beautiful each and every day.
Megan graduated from the Aveda Institute in 2002. She worked as an educator and a stylist for 18 years at Spalon Montage prior to joining the team at The Salon. Over the span of her career she has styled hair for many photo shoots, runway shows and countless bridal events. Megan loves to use her creativity and knowledge of styling, coloring and cutting to give her clients dream hair. Many of Megan's clients have become friends over the years because Megan truly cares and listens while helping each of them look and feel fantastic. Megan was voted "Best Hairstylist in Woodbury" by Woodbury Magazine in 2010 and was a stylist for the Minnesota Vikings Cheerleaders from 2010-2018.
Rachael has been coloring hair for 8 years! She specializes in hair coloring, balayage, highlighting and natural lived-in color, are a few of her favorites. She keeps up to date with modern techniques and hair trends. Rachael looks forward to meeting you and creating the perfect color just for you!
Sara brings with her 11 years of industry experience, she focuses on building trust with her new clients and has a strong-trusted relationship with her current clientele. She has created this relationship by listening, creating and executing her client's needs and wants. She excels in working with fine haired women's short cuts that are easily styled at home. Keys to her success have been understanding client's hair type and lifestyle. Her dedication to advanced education through her 11 years of experience allows her to create a style that looks and works for her clients with ease.