Business Hours:
All stylists are independent contractors. Hours vary. Clients who cancel within 24-48 hours will be charged a cancellation fee of up to 50% of services booked. Same day cancellations and no shows will be charged a fee of up to 100% of services booked.
Payment Types Accepted: Cash, Visa, MasterCard, Amex, Discover
Staff:
Owner // Short hair enthusiast Instagram @beth.tucker.hair I am currently saving space for my community by only taking on new clients who are queer. If you're a new client who wishes to book, please email me at bethaneyrose@gmail.com
New haircut clients welcome! (Not currently taking new color clients) I love reds/coppers, curls and cutting hair chin length and longer! Please note I do not offer fashion colors. Book online & check out my work @savannahray.styles
✬ Now Excepting New Clients ✬ Dog mama of a Frenchie Bumble and bumble trained NY Published Hairstylist for PlayBoy magazine IG @genevaaaa.hair I specialize in Creative Color, Lived in Balayage, Highlights, Long Layered Cuts,Razor Cuts, 90s bouncey layer cuts, Hair Extensions, Low Maintenance Color Haircut $130 --------------------------------- comes with complimentary clear gloss treatment, for health and shine of the hair leaving it feeling so bouncy Color/bleaching by the hour $150 --------------any color or highlight service you choose will be charged by the hour. ex: Root touch up takes about 1hr verse full highlight/ balayage service takes about 3hrs does not do short cuts involving clippers hair extensions please txt first for waitlist txt email: geneva.garciaaa@icloud.com or txt: 661-317-1223
Dan is a hair cutting and razor specialist. They offer tailored cuts for all hair types, textures, and curl patterns. New clients are always welcome! Please book your service as a "New Client Haircut" if it is our first time working together to allow for extra time. NEW CLIENT HAIRCUT - $125 HAIRCUT - $105 CURLY HAIRCUT - $105 TRANSFORMATION HAIRCUT - $125 BANG TRIM - $30 Ig: @dan.cutsyourhair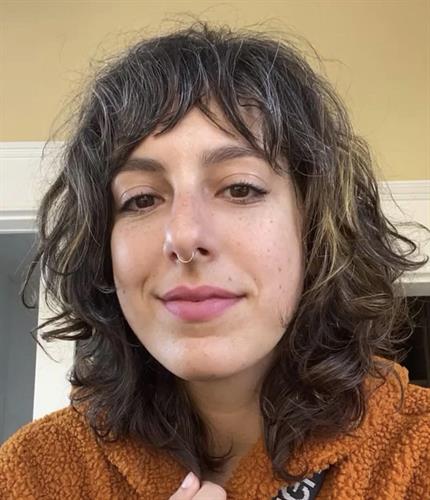 Accepting new clients! Serving low-maintenance hair for low-maintenance people. I can do it all, but short feminine cuts and curly hair are my specialty! Only doing color for pre-existing clients.
Specializing in razor cuts, precision cuts and low maintenance hair styles of all lengths and textures. They enjoy all things color, but excel in vibrant copers, balayage, color blocking and platinum blondes. 7 years experience behind the chair with a passion for providing services to the queer community. To book color and for all other booking inquires, you can contact them via instagram @low.life.styles or email them at low.life.styless@gmail.com