Staff: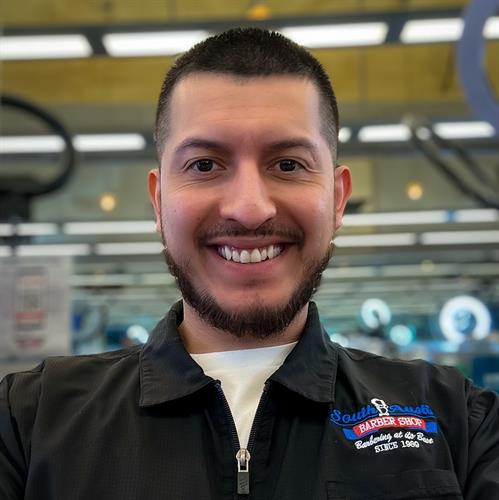 Although Reiko is another outstanding graduate from Austin's BeVelle Barber School, he had a lot of years of cutting under his belt before graduating in 2009! Several years before getting his license Reiko got tons of experience cutting his friends and family. The creativity of being a barber and love of using his own two hands to create was ultimately the deciding factor in Reiko deciding to pursue barbering as a profession. The satisfaction that comes from the increased customer confidence levels along with conversations and meeting new people is what continues to make barbering so enjoyable for Reiko. HIs creativity continues even when he isn't behind the barber chair as he enjoys drawing, creating videos, and photography. Rieko loves to spend his time with his wife, two daughters, and a brand new baby boy. IG @reikoleecuts
Dom was born and raised in Los Angeles, CA. but recently made the jump to Texas with his long time sweetheart. Dom has serious barbering skills that are way beyond his years of experience. Dom enjoys using that skill set along with his creativity to give that look of confidence his clients love. His barbering specialties include fades, tapers, comb overs, shaves, lineups, hard parts and beard work. The professional barber lifestyle keeps Dom confident and motivated towards reaching all of his personal goals. Dom and his girl enjoy driving through the neighborhoods picturing their dream home. Away from the shop he likes eating out, watching movies, playing Xbox, and hanging out with friends. Check out his Instagram account and you'll find awesome haircuts and some funny as hell stories! @papadom__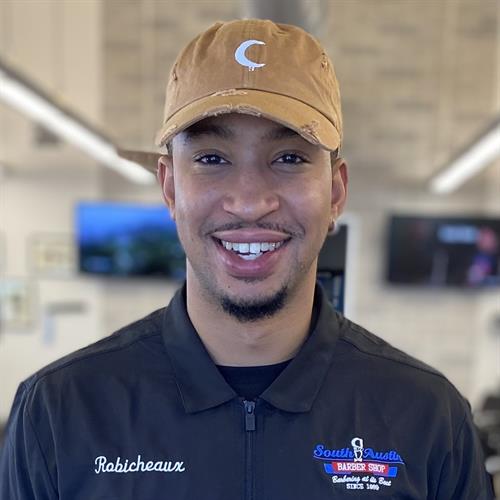 Ronald (Robicheaux) is from the Beaumont, Galveston Texas area where he graduated barber college from Barbers Inc Trade School in Beaumont TX. With 10+ years of experience the thing Robicheaux likes about the barbering profession is the impact a well executed haircut can actually have on a person, It is something he never gets tired of.Besides the actual haircut, Robicheaux prides himself on the customer service aspect of the whole experience, making sure he meets or exceeds the clients expectations. When he isn't behind the barber chair you will find him utilizing all his gifts as a full blown creative artist in and around the Austin area.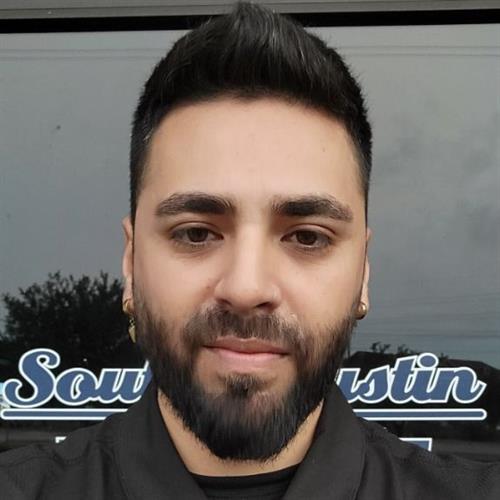 Alex Loyola is SAB's first ever barber from Argentina! We couldn't be more pleased that Alex has moved to Texas and chose South Austin Barber Shop to start his Texas barbering career. Alex has all the characteristics you would desire in a professional barber with the number one thing being he can cut awesome hair! Whether it is a fade, skin fade, long hair, taper, design, hot towel shave or anything in between, Alex has got you covered. He loves the freedom to be creative and to have his skills challenged with different cuts. Helping people to feel better about themselves everyday is one of the simple pleasures of being a barber that never grows old for Alex. Away from the shop you can find him in the boxing ring, watching soccer, traveling, hiking, and spending time with his wife. Come check out the dude from Argentina! Follow his Instagram @alexxfadetech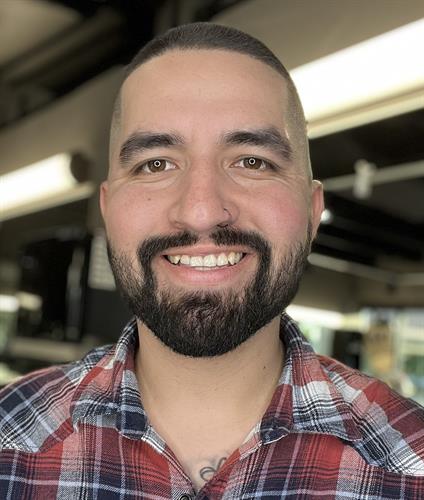 Aaron found his love and passion for barbering in McAllen, TX, where he became proficient in different hairstyles but especially mid and high fades, combovers, gentleman haircuts and is now a beard specialist. His favorite part about his job is being able to provide his clients with a personalized experience instead of just a service. He enjoys communicating and connecting with his clients all while providing an extraordinary service. While he's not at work, his hobbies include spending quality time with his son and exploring Austin with his German Wire-haired Pointer. We invite you to book with Aaron and check him out for yourself why we are so pleased to have him on board.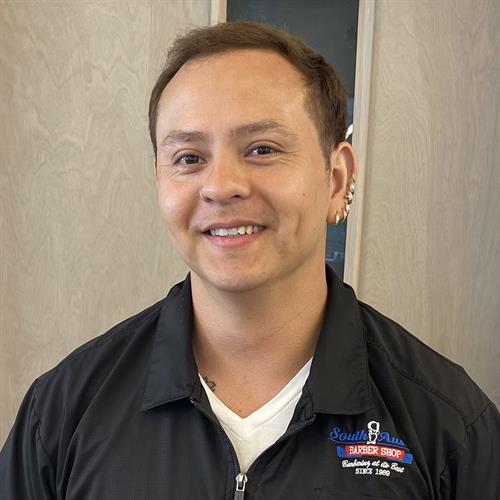 Cris Mendoza was born and raised in Leon Guanajuato Mexico. He has been cutting hair as a licensed barber now for 8 years and his experience is obvious to anyone who has been around the barbering business. Cris confidently handles any haircut from a skin fade to hair past the shoulders and everything in between. Some of his favorite cuts are the low fade, drop fade and any kind of taper. He really enjoys making a regular beard look special as well. Some of his hobbies include movies, going out on the town, and exercising, especially running. IG @cris_barberstyles
Harry's family tree is of the Domincan and Puerto Rican heritage. He was raised in the Manhattan borough of New York City and eventually went to barber college right at home at the American Barber Institute. Harry has 16 years of experience under his belt and his work speaks volumes as to why he has been so successful. He loves the everyday interactions with his clients and the joy of seeing their confidence level rise right in front of his eyes when the haircut is completed. He enjoys all styles of cuts but has a special love for all types of fades and beard shapings. Harry stays busy outside of business hours by reading, going to the gym and exploring the many Austin lakes, rivers, and hike and bike trails. Follow his IG @tucán01
Felix (Domi) Gomez graduated barber college in Puerta Plata, Dominican Republic. Since then he has continued honing his barbering skills by attending numerous professional barbering seminars over the last 20 plus years. With all Domi's experience it's hard for him to pin down his favorite cut but if he had to pick a few they would be the low fade and taper fade. He can lay a nice design on you as well . As with a lot of barbers one of the main forms of his satisfaction comes from the mouth of another satisfied client. Domi has a very busy life away from the shop with many hobbies including target shooting, motorcycles, cars, and karaoke. If that isn't enough he is a family man who has handyman skills he enjoys using often. Let those years of experience work in your favor by booking an appointment with Domi!
Jayte's roots are in Eagle Lake TX where he enjoyed a good ole small town Texas upbringing. He attended and graduated top of his class from Franklin Beauty and Barber Institute in Houston TX. We couldn't be more pleased that Jayte has landed right here in the big ATX at our Slaughter Lane location. Some people just have that "It" Factor and Jayte is definitely one of those people. No matter the requested hairstyle, Jayte will confidently meet and exceed expectations every single time. A passion for the details is what he says separates a great haircut from just a good one. Jayte enjoys basketball, tattoos, and writing music. Book an online appointment and experience the "It" Factor for yourself. Follow on Instagram @king.of.the.south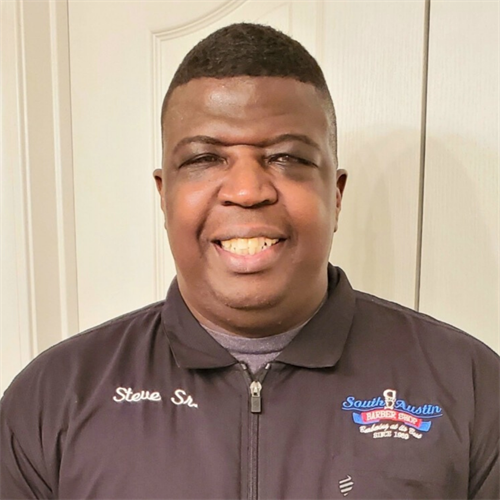 After growing up in Union, South Carolina, Steve went to work for Uncle Sam by joining the military. After serving an exemplary 25 years in the US Army Special Operations Unit, Steve retired and decided to pursue professional barbering. He could not have picked a job he is better at or likes more! With seven years of barbering under his belt, you will notice Steve exudes the confidence necessary to be a top tier professional barber. Although he routinely tackles any head of hair that comes his way, his favorite cuts just happen to be the popular bald fade and taper cuts. Steve's hobbies include drawing, reading, working out, and studying the craft of barbering. Book an online appointment with Steve and introduce yourself to one of his well-known precision cuts.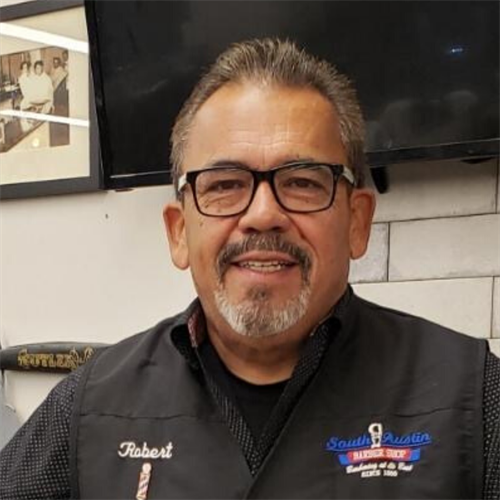 Robert Dorantes is a native Texan and graduate of Modern Barber College in Houston. It will be clear right from the start you are in good hands as Robert's intuition makes him quick to understand your intended look. Robert specializes in the businessman's cut and is right out front when it comes to all the latest styles and trends. Please note that Robert hasn't ever gotten around to gaining experience with textured hair such as African Americans have. In addition to being a highly skilled Master Barber, Robert has a passion for music and is the leader of a three-time Grammy nominated band. Family comes first with Robert and that is where most of his time is spent when the clippers aren't running or the trumpet isn't playing. Robert's easy demeanor and awesome abilities will soon make you one of his many regulars.
Justin Nicks graduated from barber college right down the road at Alamo City Barber College. Justin picked Austin to further his barbering career and we couldn't be happier that he did! Justin loves the act of changing a person's appearance all the while being able to converse with the client about a wide range of topics which has been known to even include some free therapy! When asked if he had a favorite cut his reply was, "I love them all!" Austin seemed to be the perfect fit for some of Justin's hobbies which include fitness activities such as soccer, swimming and going to the Austin dog parks with his sidekick French Bulldog, Nipsey.