Staff:
Hi! I'm Brooke, a stylist originally from Greenville, NC and new to the Triangle area as of January 2020. I have five years experience and specialize in hand crafted cuts, lived in color, extreme blonding services, curly cuties, and vivid color. I have been passionate about the hair industry for as long as I can remember, even to cutting my barbies hair as a kid! My favorite thing about my career is welcoming clients in with open arms as if they are already family and making you all feel the most in your skin and expressive as possible. I can't wait to see all of your beautiful faces at Rock Paper Scissors! She/Her/Them Brooke works in our street level space
Alex loves all things hair, especially color! She's a Libra with over a decade of experience behind the chair. Alex is UNC Chapel Hill alum and used her hair career to pay her way through school. However, she loved the beauty industry too much to put down her shears. Come in to let Alex do magic on your locks, and maybe have a nice conversation about her fav topics: cats, books, and anthropology. Alex uses she/her pronouns and would love for you to share your pronouns! Alex works in our street level space.
A gemini from Connecticut, Michael will blow you away with his skills! He loves to play with blondes and coppers and reds, fun edgy cuts, and soft pretty long layers! He/Him Michael works in our street level space
I have loved being a stylist for the past 12+ years because it gives me an opportunity to keep learning new techniques and to be creative every day. I love dry cutting, playing with texture, razor cuts, short hair, Keratin Treatments, balayage, color, and curly hair. I'll chat with you about how to maintain healthy hair and how amazing our Davines products are. (For real, I'm addicted!!) Also, Check out my work on Instagram!! @lizmack_thebeautician 🏳️‍🌈 She/Her Liz works in our street level space
Kales is a Taurus from NC who is ready to give you something new. She will help you decide what will look best on you and execute it flawlessly. She loves doing bright colors and balayage, and adding texture and dimension to every cut. @thekalesedition She/Her Kales works in our street level space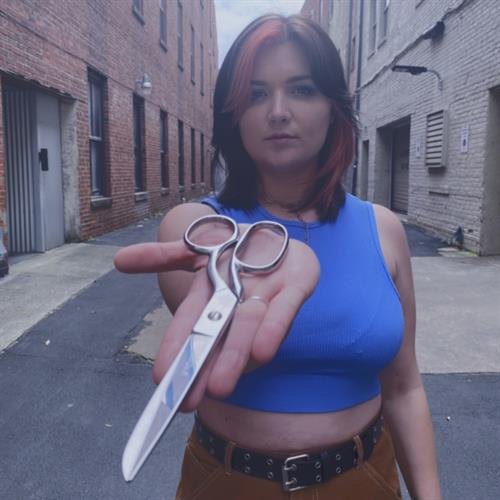 An Aquarius with 8 years under her belt, Skyler will take good care of you! See her for funky vivids, dimensional blonding, short cuts, shags, and anything in between. You may catch her on her days off hiking, cooking new vegetarian dishes or visiting her family in Carolina Beach. Skyler works in our street level space. IG: @SJMhairdesign She/Her
A Scorpio with a few years under their belt, Mashaal is a self proclaimed hair nerd who loves to learn it all! They love working with color, such as fashion colors, balayage, blonding, and color corrections. They also enjoy cuts and curly hair and loves making people fall in love with their curls and texture again. "Hair is my canvas. All are welcome in my chair🏳️‍🌈🤍🤎🖤" Find their work on Instagram @_whodoesyourhair She/Her/They/Them Mashaal works in our street level space
A Virgo with 20+ years experience & an RPS educator, Suzanne is an expert in cuts and color. Suzanne takes her time consulting to help guide you to a style or color that best suits your face shape, skin tone and hair type. Natural looking color, highlighting and sun kissed, beachy blondes are her loves. She enjoys working with wavy hair, as well as fine textured types. "Make peace with your hair" is her favorite mantra. She/Hers Suzanne works in our street level space
A Capricorn with 15 years of experience. She loves enhancing natural beauty with blended hair color and haircuts that fit your lifestyle and goals. She takes time to educate you on how to maintain your hair after you leave her chair. She/Her Amanda works in our annex space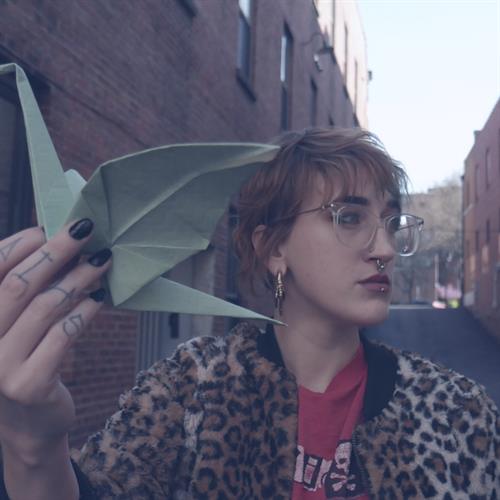 A Virgo with over five years of experience, Abigail loves working on your shags, mullets, bowl cuts, and vivid colors! She can also translate her love of these things into beautiful natural color, and more polished styles. You can find her in our Annex location around the back of the building! Come see her for a new 'do! She/Her Abigail works in our annex space
A Cancer with 14+years experience, I love balayage, fun vivid colors, and overall just making people feel good about themselves when they leave my chair. I've been referred to by others as a "hair wizard" and would love to work some magic on your hair! You can find me in our Annex location around the back of the building! My Instagram is @Kara.Therese if you wanna check out my work :) She/her Kara works in our annex space
A North Carolina native that loves balayage & blonding, Allie is a natural at doing beautiful hair! Let her give you the hair you've been dying for! This 26 year old Aries has been behind the chair for over 5 years and can't wait to see you! Find her work on Instagram @allie.scissorhands SHE / HER Allie works in our annex space
A Gemini from NC, Nikko loves to take the time for details. She loves to help you rock anything from modern mullets, to '50s styling, and is up to any challenge. Nikko is also our talented resident aesthetician. She/Hers Nikko works in our annex space
A Scorpio with 13+ years experience. An RPS educator with her vast knowledge and years of continuing education, Laurie will cultivate the hair of your dreams. She's an expert in all things color: from lived in, natural highlights/balayage to extreme blonding services to vivids and beyond. She loves working with any kind of hair texture, specializes in curly cuts and curl specific styling and she also does extensions. Her main goal is for you to love your hair and she'll show you how. Give her a follow on insta @Lauriealeh She/Her Laurie works in our annex space.
He/Him Specializing in Short haircuts/Barber cuts, beard trims, and hot shaves. Gavin works in our annex space gavinboumapro@gmail.com
A libra and one of RPS's first stylists with over 18 years of experience, Amy pays attention to the details of her services. Her cuts grow out softly and last for weeks and her beautiful color grows out seamlessly. She/Her Amy works in our street level space
A Virgo with 8+ years of experience, Emma will woo you with her hair magic skills. She loves doing beautiful natural balayage, and playing with fun cuts and color. She/Her Emma works in our street level space
A Pisces and owner, stylist, mentor of Rock Paper Scissors. Laura has 20+ years experience with cuts and color. She loves texture, using a razor, and soft blended cuts and color that grow out naturally well. When not doing hair you can find her going on hikes at the Eno, playing outside with her two kids, 6 chickens, and a puppy named Squid. She/her Laura works in our street level space