Staff: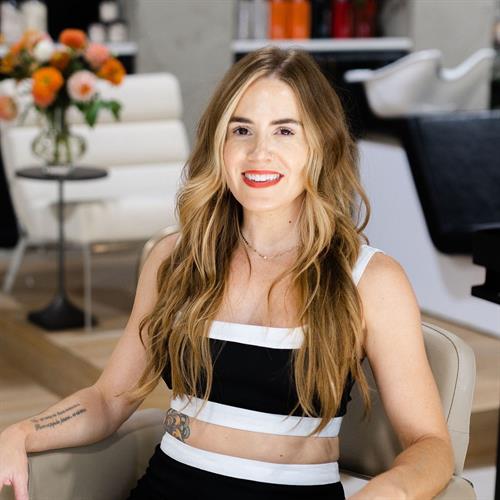 | Dimensional Colouring | Textured Cuts | Low- Maintenance Hair (If you're a new client interested in seeing me, use this link for more information: https://www.parkavenue.studio/new-clients) Always game to experiment with new techniques, Amber enjoys working with a blend of multi-dimensional shades from sun-kissed blondes to bright reds to vivid unicorn colors – as long as they adhere to her "flattering and functional" motto. While Amber's aesthetic tilts toward edgy, her work ethic is nothing short of old-school. She routinely goes above and beyond for her clients because "I love what I do," says Amber. "My job is my hobby, and I love making people happy." She focuses on building genuine relationships that inspire her creative vision. "If you're going to be someone's stylist, you have to get to know their personality and bring out their true soul," she says. "That doesn't happen without a good connection." Both her skills and colorful sense of humor are no doubt responsible for turning clients into long-time friends. "It's not just work to me," she says. "It's like hanging out with your friends all day long. She dances through each day with the energy of a playground and the skills of a master painter. But here's the secret sauce: Amber's superpower is connection. She's a hair whisperer, diving deep into personalities to conjure styles that reflect your very essence. It's all about that soul synergy.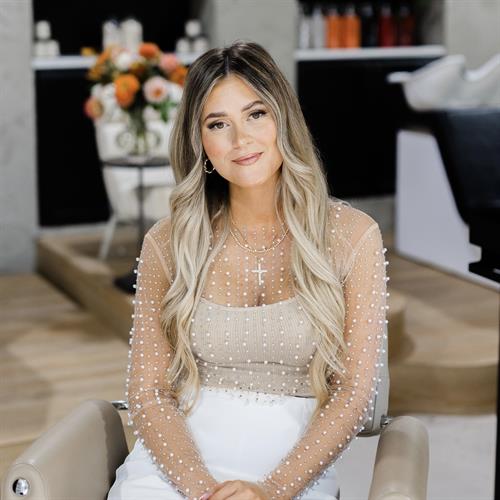 |Hand- Drawn Nail Art | Gel-X Master | Hope's affection for nails blossomed in the early years of her journey, a romance woven so deeply that she can't recall a time before her pink purse embraced a trove of nail polishes as a young girl. A distinguished alumna of Protege Academy in East Lansing, she has harnessed her prowess, honing a symphony of excellence in service and the delicate art of hand-drawn designs. Her mission? To redefine nail services, to transmute the ordinary into an extraordinary, intimate rendezvous. At the core of her philosophy lie relationships, the cornerstone upon which her nail odyssey unfolds. Hope's true brilliance unfurls in her ability to capture your aspirations in each stroke of her brush. An adept listener, she doesn't just paint nails; she transforms them into canvases of self-expression. In her presence, tranquility envelops you, as her chair becomes a sanctuary of serenity. And then there are her designs – each a bespoke emblem of your majesty. Hope, with her serene disposition and nimble hands, conjures designs that don't just adorn, but empower. You'll emerge not just with stunning nails, but with a regal aura that matches the queen within. So step into Hope's realm, where nails become more than mere adornments; they're an extension of your essence. With each flourish, she paints stories of individuality and grace, making every appointment a journey of self-discovery and elegance.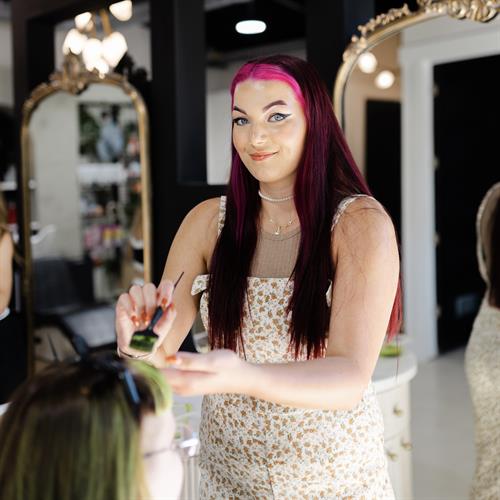 | Vibrant Colors | Men's Cut's | Styling Meet Ashley, a luminary of style who emerged from the prestigious Aveda institute nestled in the heart of downtown Ann Arbor. Like a comet, she blazed into the orbit of Park Avenue, where she ignited her journey as both an apprentice under the wing of Amber and a stylist in her own right. With a passion that sizzles brighter than a meteor shower, Ashley is an aficionado of pixie and barbering cuts, a virtuoso of fantasy color, and a maestro of turning dreams into reality. From the canvas of rich brunettes to the ethereal tapestry of ashy blondes, she recreates inspiration with a masterful touch. Ashley's aura is a symphony of warmth, exuding a smile that becomes a beacon of friendship. An enchantress of transformation, she conjures beauty that lingers long after the salon chair is vacated. Crafting looks is her forte – each style an ode to her clients' unique personas, garnished with a sprinkle of Ashley's magic. Service is her anthem, and the desires of her clients are her notes. With a listening ear and a heart attuned to their wishes, Ashley's mirror reflects not just images, but aspirations. An Aquarius, she's more than just an alignment of stars – her welcoming spirit, penchant for tête-à-têtes, and genuine curiosity turn every encounter into cosmic camaraderie. Beyond the salon's tapestry, Ashley wields a different kind of artistry, crafting joy through the alchemy of arts, crafts, and culinary delights. Ashley isn't just a stylist; she's a constellation of style, a painter of personalities, and a creator of connections. Each strand she touches becomes a thread woven into the tapestry of her clients' stories.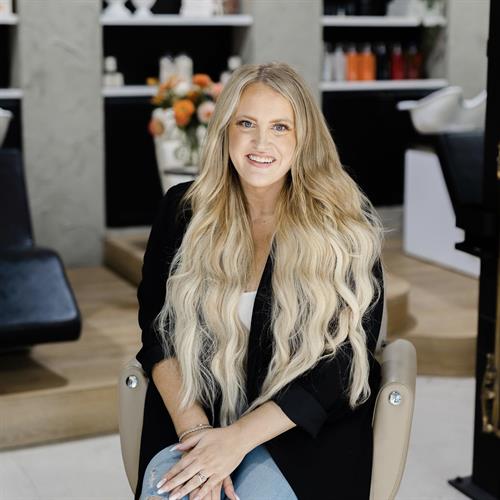 |Bridal Hair + Makeup | Extensions | Platinum Blondes From tender beginnings, Amanda's fascination with the beauty realm bloomed like a cherished secret. She would don her grandmother's makeup and entreat her to weave tresses into Dolly Parton-esque magnificence – the seeds of her journey sown in playful curiosity. Time waltzed, and a few spins around the sun later, Amanda found herself on the road of beauty pageants, a kinship with her cousin, and a knack for crafting hair that garnered accolades. Amanda is a devotee of perpetual learning, an eternal student of the ever-evolving artistry. She unravels the tapestry of trending techniques, her canvas alive with the magic of transformation. With an affinity for blonding wizardry and styles that flirt with the clouds, her brushstrokes mirror each client's unique allure. Her laurels, however, rest not just in her adeptness but in her attentive ear. Amanda wears the crown of a great listener, tuning into the symphony of her clients' aspirations. Each creation she sculpts is a roadmap, a guide that empowers her clients to unravel beauty within their own mirrors. Beneath her nimble fingers lies a commitment that transcends the salon chair. To Amanda, beauty is a reflection of the soul, a whisper that resonates from within. Her mission is nothing short of unveiling the beauty that resides both inside and out. So come, sit in Amanda's realm – where the brush is a wand, and each snip, a spell. With her, you're not just a client; you're a tapestry she weaves with care and finesse, a testament to her belief that beauty is more than skin deep.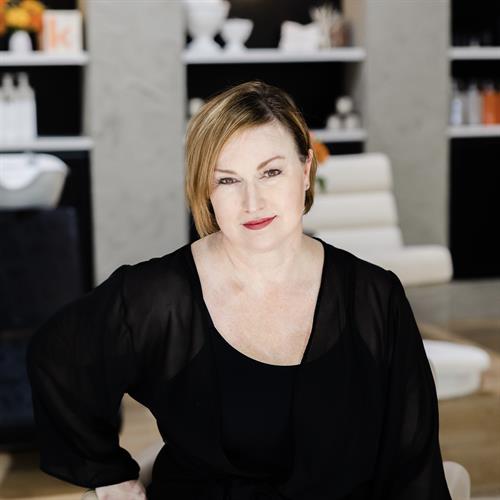 | Fine Hair Specialist | Master of Color | Special Occasion Virtuoso Meet Rebecca, a true maestro of hair artistry who has been weaving her magic for over 25 years. Hailing from the vibrant backdrop of Grand Rapids, her journey in the world of hair commenced at an early age. After honing her craft in the grandeur of a bustling salon/spa, she danced her way into the heart of hair fashion at a chic boutique salon. Her passion for perfecting every strand led her to the dazzling streets of New York City, where she graced the Upper West Side for an illustrious 4-year chapter. As fate had it, her journey came full circle, guiding her back to the picturesque landscapes of Michigan, where she found her haven at Salon Underground. It was here that fate intertwined her path with Amber, a kindred spirit and collaborator extraordinaire. Rebecca's dedication to her art has been more than just scissors and combs. She's a perpetual student, learning from the industry's finest platform artists to stay ahead of the dynamic hair trends that shape our world. She's not just a stylist; she's a storyteller. Having delved into the realms of hair for film and television, she's adept at bringing retro styles back to life, infusing a touch of nostalgia into the modern era. For Rebecca, hair is more than just aesthetics; it's a journey of empowerment. She wholeheartedly believes in the transformative power of a haircut, channeling the words of Coco Chanel herself: "A woman who cuts her hair is about to change her life." With every snip, stroke, and shade, she crafts not just hairstyles, but confidence, self-love, and pure joy. Step into Rebecca's world at Park Avenue, where every appointment is a tapestry of creativity, beauty, and empowerment. Let your hair tell your story, and let Rebecca orchestrate the symphony.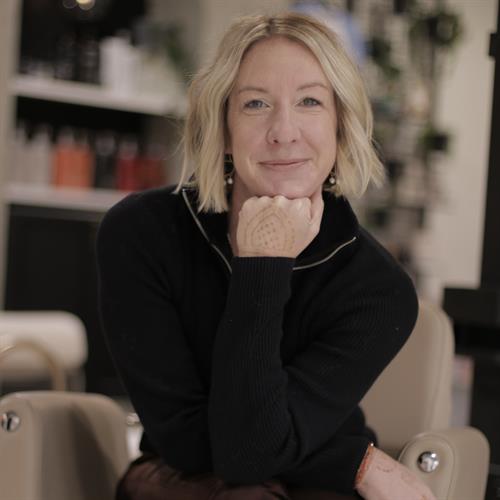 Lived-in color | textured cuts | curly hair With 18 years of dedicated experience in the world of hairstyling, Amy has developed a true passion for enhancing the beauty of every individual's hair. Her love for curly hair, short hair, lived-in color services, and textured cuts has become her signature in creating trendy, wearable styles. Expertise: Curly Hair Whisperer: I understand that curly hair is unique, and I'm here to bring out its full potential. From classic curly styles to modern twists, I have mastered the art of enhancing and taming those beautiful curls. Short Hair Virtuoso: Short hair is more than just a style; it's a statement. I excel in crafting short, chic, and versatile looks that exude confidence and individuality. Lived-In Color Artisan: Coloring is more than a technique; it's an art form. I specialize in creating lived-in, natural-looking colors that beautifully evolve with time, offering a low-maintenance yet stunning appearance. Textured Cut Maestro: Texture adds depth and dimension to any hairstyle. Whether you desire a trendy, messy look or a precise, structured cut, I'm skilled in delivering textured masterpieces that suit your unique style. Why Choose Me: Experience: With nearly two decades in the industry, I bring a wealth of knowledge and expertise to every appointment. Passion: My love for what I do is palpable in every service I provide. Your satisfaction is my ultimate goal. Customization: I believe in tailoring every service to the individual, ensuring that your personality and style shine through. Lived-In Beauty: I understand that hair should not only look amazing on day one but maintain its beauty as it grows and evolves, making it easy for you to upkeep your style. Continuous Learning: The hairstyling world is constantly evolving, and I stay updated with the latest trends and techniques to offer you the best services.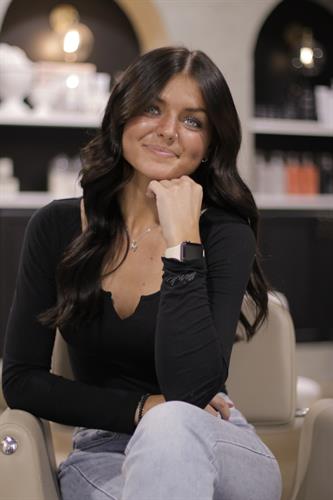 Meet Makenzie, the vibrant force behind the scissors and styling brush! With a passion for all things beauty and a recent graduate from cosmetology school, Makenzie is on a radiant journey in the world of hair artistry. Starting her career by lending her talents as an assistant at Park Avenue, Makenzie is diving headfirst into learning the ropes and perfecting her craft. Her dedication to honing her skills and absorbing every ounce of knowledge from seasoned professionals is palpable. Blonding services are Makenzie's forte, her knack for creating those sun-kissed, beautiful blondes is unmatched. Whether it's the perfect icy tones or the warmest honey hues, she has an artistic eye and an expert touch that leaves her clients glowing. But Makenzie isn't just about transforming hair; she's a lively conversationalist who brings warmth and laughter to the salon chair. Her outgoing nature makes every appointment a delightful experience. You'll find her chatting away, exchanging stories, and building connections with her clients. Her fun-loving personality is infectious, making each visit to the salon an absolute joy. Beyond her talent and expertise, Makenzie's personal style is as charming as her personality. With a flair for cute and trendy fashion, she adds a dash of her own unique style to every salon session. As Makenzie continues her journey, she's eagerly working towards taking on her own clients, eager to bring her creativity and passion to life by crafting stunning looks and ensuring every client leaves feeling like their best, beautiful self.