Description:
At Dodge City Grooming Salon, we are focused on providing top quality services for all your pets hygienic needs with the highest level of customer service. We are certified & insured feline/canine groomers who are looking forward to meeting your fur kids.
Additional Info:
The salon has been relocated to the heart of Cumberland. We are at 2699 Dunsmuir ave. Please park out front and use our store front door. Now offering retail items for the athletic pooch in your life, we also have feline products as well.
Business Hours:
Monday -6am-5:30pm Tuesday -7am-4:00pm Wednesday -7am-5:30pm Thursday -7am-8:00pm Friday: 7am-4:00pm Saturday -Closed ATM Sunday -Closed ATM *Open on most holidays* *Debit/Credit/tap! *Etransfers accepted at times but processing fee will apply
Payment Types Accepted: Cash, Visa, MasterCard, Amex
Staff: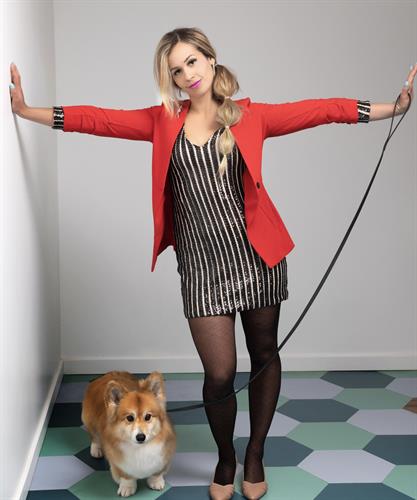 Owner and professional/experienced pet groomer at Dodge City Grooming Salon. With a whole lifetime in the animal industry, she's been a certified/insured groomer since 2015. With her extensive animal background, she also works at a veterinary hospital part-time to maintain her education on the medical aspect and proper care for your pet's every need. Leanne specializes in elderly animals and special needs fur babies too. She's comfortable grooming cats, dogs, birds and even small animals. She loves her profession and continues extra education whenever it's offered. Leanne also loves being involved within the community and enjoys giving back. This salon she's created isn't just a business or a job, it's her passion, and it shows! She's excited to continue to grow her business and hand-picked staff.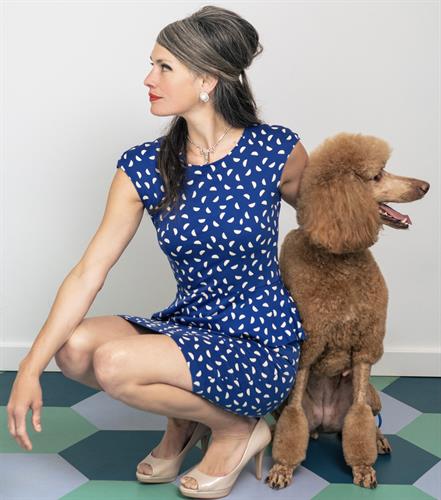 Cara is a certified, insured canine/feline groomer, who has had a lifelong love for dogs and has been working in the industry for over 17 years! We consider Cara being our most experienced groomer and it shows. She lives with her partner and 2 children (Sterling & Sunny) in the heart of Cumberland. She also has her old K9 companion, Cameron (lab x Akita) young buck Rocket (lab x heeler) and crazy black cat, Chandler bing. Cara brings extensive knowledge in grooming and behaviour of all canine breeds. She's trained in proper breed clips and takes a tremendous amount of pride in her work and the animals she works with. She's also had many years of experience in show grooming and growing out breed clips. She specializes in hand stripping all breeds of terriers and has many years of experience in feline grooming. If you're looking for a breed clip, hand strip or specialized scissor work, this girl has you covered. Her calm, warm personality will have your pooch sold after your first appointment here at Dodge City Grooming Salon.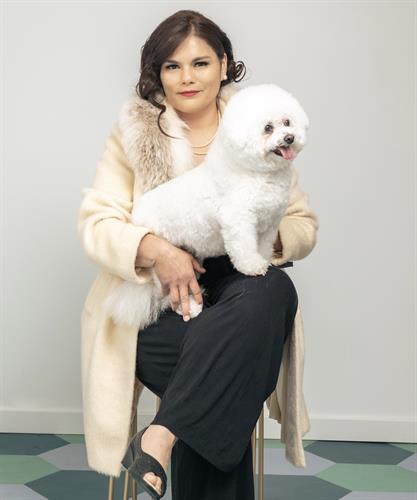 Update: Jessica will be leaving on maternity leave to greet her 3rd baby girl. Her last day with us is Sept 21st 2022. We hope to see her smilie face in the new year for a part time, flexible schedule. We miss you already girl. Jessica is a born and raised Vancouver island girl with a huge heart and calm, loving energy. After a lifetime of being raised around all types of animals, she's finally found her dream career where she can be with them at all times. Leanne and Jessica go back 10+ years with very similar work ethic, compassion and always eagerness to learn. With this type of career, the possibilities are endless and she's quickly learning the reward is instant and so satisfying, followed by many loving paws and wet noses. Jessica had graduated as of Jan 2021 from the JKL distance grooming education. She apprenticed for 1 year with Leanne & Cara. Jessica learning very quickly and her grooming skills and handling are top-notch. She's now available to take on her clientele here at Dodge City Grooming salon. One of the many things you'll love above Jessica is her kind heart, friendly smile and calm, kind hands will have your pooch asking for Jessica every time. Jessica's energy is very well suited for dogs who have separation anxiety or just need a little extra time.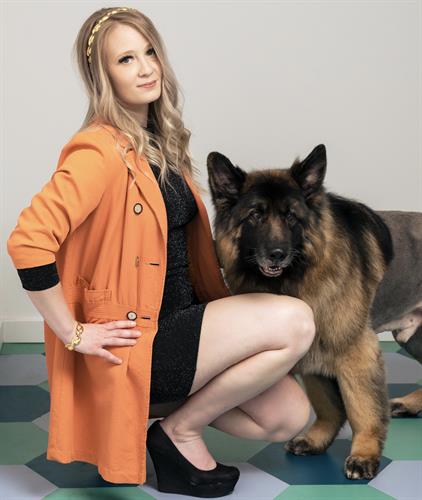 Sarah worked formerly as a dog handler at a local canine boarding facility (Country Canine Care) with the ability to read dogs, making them feel a little more comfortable and showering them with snuggles and selfies, this girl has your pup covered. Sarah has 1 of her own fur babies at home (Tank) who's a senior, beautiful German shepherd. Sarah & Leanne go back 10+ years with very similar work ethic, compassion and always eagerness to learn/move. This is why Sarah made a very smooth and quick transition into DCG. Sarah had graduated as of Jan 2021 from the JKL distance grooming education. She apprenticed with Leanne & Cara during her schooling and continues to pick up skills amongst our team. She learned very quickly and her ability to understand attention to detail was a plus as well. She's now available to take on her clientele here at Dodge City Grooming salon. One of the many things you'll love about Sarah is her warm laugh, sense of humour and the ability to treat your pup as if he/she is one of her own. Your pup will love her as much as we do! Sarah is excellent with all breeds of dogs but with her strength, she's one of our groomers who can comfortably handle/support large breed dogs. With that being said she has a big soft spot for all doodles and golden retrievers.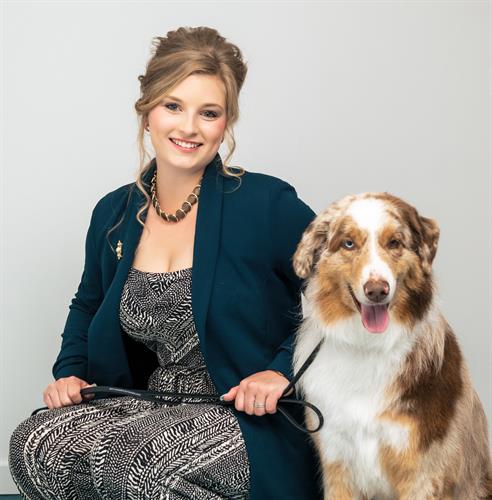 UPDATE DEC 2022: Cyan will be joining us once a month for a "Feature Groomer" Saturday. If you would like to know which Saturday Cyan will be grooming out of DCG, please contact our receptionist to book an appointment. Her appointments do fill up quickly so book ahead! Sept 2022: Cyan has relocated to Victoria to be closer to her partner. We are extremely sad to see her re-locate however are so proud of the professional animal groomer she's become. We all still remain close and cannot wait for her return in the next few years to Dodge City Grooming. If Victoria is closer to you and Cyan was your pup's groomer. Please feel free to call or text our salon number to get the name and number to Cyan's new employment she's working out of. We will be keeping all of Cyan's past clientele. Leanne, Sarah or Cara would love to pick up where Cyan left off. Best of luck on your life adventure, we will be here when you return.
Meet Jennifer! She's our newest (to us) groomer who recently moved here from Squamish BC with her little floof Froda. Jennifer has been grooming for a solid 5 years and is super excited to meet our wonderful Dodge City Grooming clients and fur kids. Her passion is medium to giant-breed dogs as she feels comfortable and confident with their size. That being said Froda has a rad haircut too ✂️ 🐾 . . She will be accepting new clients from medium to giant breed canines. At the moment her schedule is opening up so availability should be easy to book online. If you have questions please don't hesitate to reach out to 250-218-5209. . Please welcome Jennifer to our dream team if and when you see her upfront learning the roots. ❤️