Description:
Beauty Shop on the Square is a full-service salon, offering a variety of hair and aesthetic services. We pride ourselves on providing quality services in a clean and professional environment. We are located in historic downtown Dawson Springs.
Payment Types Accepted: Cash, Check, Visa, MasterCard, Amex
Staff:
Hey, I'm Lindsey, the proud owner & manager of Beauty Shop on the Square. I'm a master stylist with 16+ years experience in the beauty industry. I specialize in cutting-edge color and blonding techniques, including hair painting and balayage, as well as cutting, & styling. I'm very passionate about this industry and believe that helping people experience beauty is my craft and calling. I participate in a minimum of 6 continuing education events annually, to ensure that I stay on the cutting edge of the latest trends and techniques. I'm committed to consistently growing and honing my skills. I would love to help you discover new potential and beauty in your hair.
My name is Michelle Simons, I have been with Beauty Shop on the Square for a little over a year now. A little about me: I have called Dawson Springs "home" for 21 years. My husband, Clay and I are parents to our wonderful son, Dalton. We have a grandson that we absolutely adore. Cosmetology has been a passion of mine since I was a little girl. I particularly enjoy conversing with and creating connections with my clients, I view each new guest visit as an opportunity to make a new friend. I love all hair services, though when a guest is seeking a significant change in color or a big cut - that's my absolute favorite! Seeing the excitement on a client's face always sparks mine as well. I am accepting new clients and offer a full menu of hair and beauty services. I'm looking forward to seeing you soon!
Hey, I'm Carly, I've been part of the BSotS team since 2017. I am currently accepting new clients with the aim to grow my clientele. I offer a variety of services including cutting, formal styling, eyebrow tinting/waxing and different haircolor techniques. I am always welcoming new clients and would love to have you in my chair.
Hey! I'm Alyssa, a licensed nail technician. I graduated Changes Cosmetology School in October 2022 and joined the Beauty Shop On the Square in December 2022. I enjoy providing all nail services but especially pedicures. I love to show clients all feet can be beautiful. I attended my first weekend long nail convention July 2022 consisting of three continuing education classes and plan to return every year to stay up on the newest information. I also enjoy the artistic side of nails with a variety of nail art. Outside the salon I was born and raised in Dawson springs although I now reside in Princeton Ky. I enjoy practicing my craft on my two beautiful daughters and spending time with my family. I look forward to making clients nails look and feel beautiful!
'I'm a licensed cosmetologist with specialized training and certification in aesthetic services. I've lived in Dawson Springs for most of my life. I'm a wife and a mother to three beautiful children: Olivia, Adam, and Audrey. Ive been with the BSotS team since Fall 2015, and I offer a variety of hair services as well as aesthetic services, including facials, results-oriented facial treatments, and lash and brow services.

My name is Brenda and I have spent most of my life here in Hopkins County. I became licensed in massage therapy in 2020, and joined the BSotS Team in August of 2022. Prior to studying and becoming licensed in massage I enjoyed a long career in Dental Hygiene Public Health. I have worked in private practice, Henderson Community College Dental Hygiene Program, and have spent the the last 15 years working with school-age children through the University of Kentucky. During my work with the University I had the privilege of working on the UK Dental Bus. UK's Mobile Dental Clinic is a program that provides free dental care to children in schools, including children here in Dawson Springs. Working closely with the school I found the community of Dawson to be very friendly and welcoming and I look forward to continuing to build connections and relationships within the community through another avenue of care. Whether you're new to massage therapy or have experienced the many benefits of MT, I look forward to the opportunity to bring to you it's benefits through my practice. In addition to full-body massage I also offer hot stone massage as well as cupping. On a personal note: I enjoy reading, traveling, making new friends and spending time with my 5 grandchildren.

Cheryl is our in-house perm and texture wave specialist. She has over 40 years of industry experience.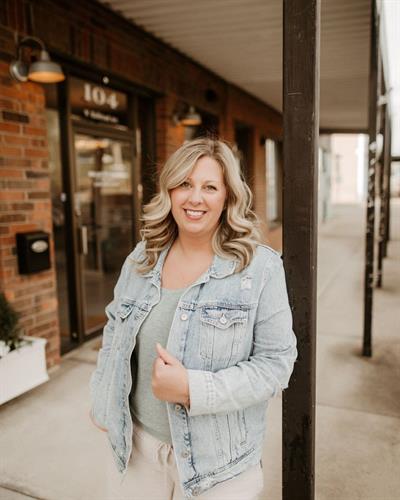 I grew up in Dawson and came back to the area 2017 following some time out of state. I've always loved having a tan but wasn't fond of the damaging effects the sun or tanning bed. I had tried spray tanning but wasn't a true fan until I used Norvell products used by a spray tan technician, not a booth. That was it...I was hooked. While attending school after returning back to KY in 2017, I chose to become certified as a spray tan technician as a part time job as an alternative income. I continue to tan outside of my full time occupation because I love the satisfaction and instant gratification my clients have for an upcoming event or just because. I particularly love tanning brides and for prom. I take pride in my work and always try to make the experience as comfortable as possible for everyone. Outside of the salon: I am a physical therapist assistant in a private outpatient clinic. I served active duty in the Navy for 6 years and continue my service as a reservist. Most recently, I volunteer with the Dawson Springs Community Center. In my spare time: I enjoy to play an occasional softball game or golf (beginner). I'm always interested in experiencing new things and being more active outdoors. My specialty: Professionalism in a casual environment. My goal is to make the client comfortable and confident during their session.