Description:
OUR FOCUS WAS TO CREATE A SPACE WHERE ALL OF OUR ARTISTS HAVE A FREE FLOW OF CREATIVITY BY COLLECTIVELY UPLIFTING ONE ANOTHER AS WELL AS OUR COMMUNITY. AS ARTISANS, WE STRIVE TO TAKE YOU FROM MODERN SOCIETY TO A TIME WHEN LIFE WAS JUST A LITTLE MORE TAILOR
Business Hours:
We are open! Tuesday-Friday 10am-7pm Saturday 9am-3pm Sunday 9am-3pm Holiday Schedule Tuesday 11/21-10am-7pm Wednesday 11/22-10am-7pm Thursday 11/23-9am-2pm ($10 Surcharge) Friday 11/24-10-7pm Saturday 11/25-9am-3pm Holidays ($10-$15 Price increase)
Payment Types Accepted: Cash, Visa, MasterCard, Amex, Discover
Staff: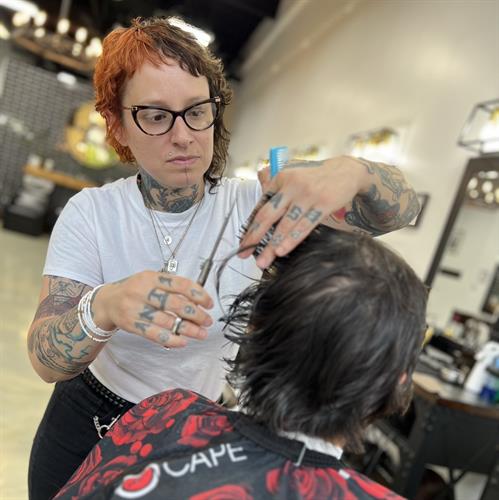 Im a well versed barber with 7 years of experience. My focus is on delivering precision and style, whether it's classic or modern. Dedicated to providing top-notch service, ensuring you leave confident and refreshed. Always up-to-date with the latest trends and techniques to guarantee your satisfaction. Looking forward to enhancing your style and confidence in my chair.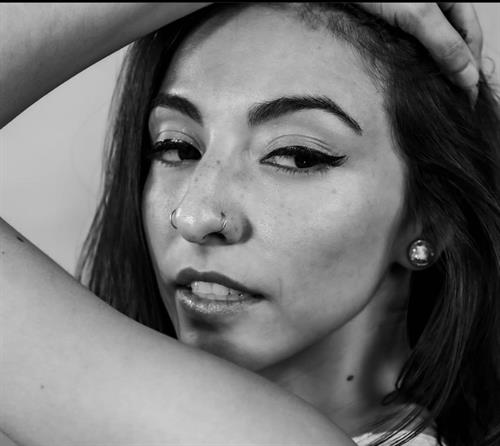 Angel is a licensed hairstylist with a decade of experience. My journey in hairstyling began at the age of 13, and I've dedicated over three years to perfecting fades and embracing vibrant colors. I invite you to embark on this exciting journey with me as I elevate my passion for hair to new heights.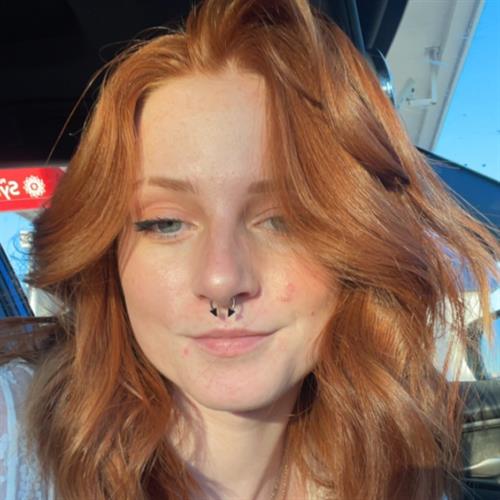 Sam is a Barber, Braider & Cosmetologist with a passion for hair since I was 10. I started my career at 18, first earning my cosmetology license and then graduated barber school at Legacy Academy. My goal is to boost clients' confidence and well-being through my work. I specialize in braiding and haircutting for all hair types.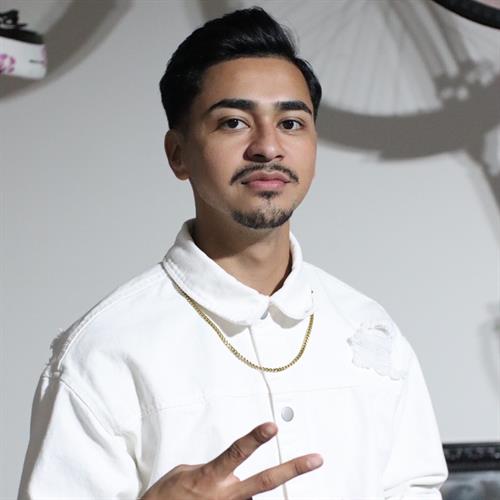 Bryan has recently graduated from Midwest Barber Academy. He is currently our newest apprentice being trained by our team. Bryan is highly talented and motivated to learn. He has gained skills from many classes throughout the year to be versatile with all hair textures. Take advantage of his current pricing as he is ready to build his clientele. Thankful for your support. Now accepting new clients.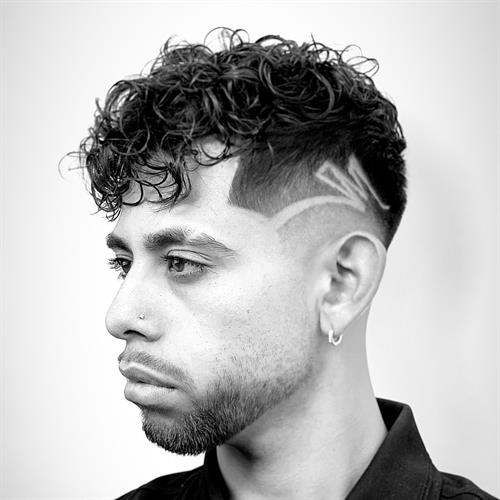 Eric is a graduate from Midwest Barber Academy. He is also licensed and ready to be your main barber. Eric was first inspired to be a barber back when he was getting his hair cut. He saw the potential of having financial freedom for himself and his family. Eric likes to surround himself with those who can help him along his journey. He's a jokester and can always be found with a smile no matter the circumstances.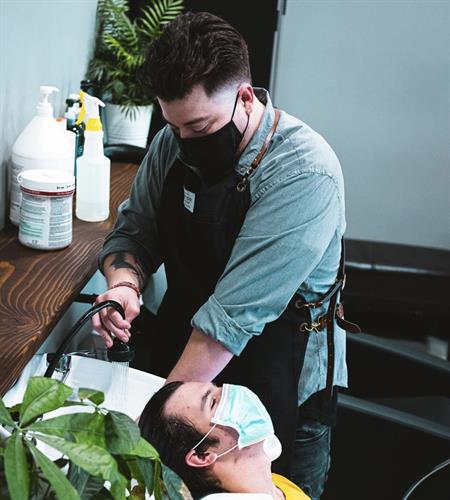 Paul Mitchell Graduate Licensed Barber Arturo Sosa is an up and coming barber, graduating from Paul Mitchell's barber program in Lombard. While attending Paul Mitchell he got a glimpse of the beauty industry, receiving hands on training cutting women's hair. He plans on learning more about the beauty industry but wants to focus on men's hair for the time being. He was only a teenager when he started cutting hair at home. What started out as a hobby cutting his brother's and friend's hair in high school turned into his passion. Arturo has taken full advantage of what he can learn from the industry. He has taken extra classes outside of school and is always willing to learn new ways to better himself in his career and life. He is a big family person, loves meeting new people, and is a sneaker and sport enthusiast.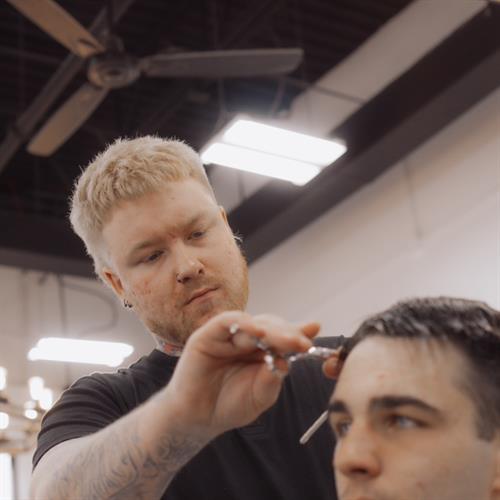 Tricoci University Graduate Licensed Barber
Bul is a young barber who recognized his passion for barbering during his service as a Marine. Turning his passion into a career, he graduated from Paul Mitchell The School Lombard, IL for their Barber Program. Bul carries a range of skills that allow him to execute modern and classic hairstyles of all hair textures. As an up and coming barber, Bul is always looking to better himself and his skills behind the chair to provide the best service possible.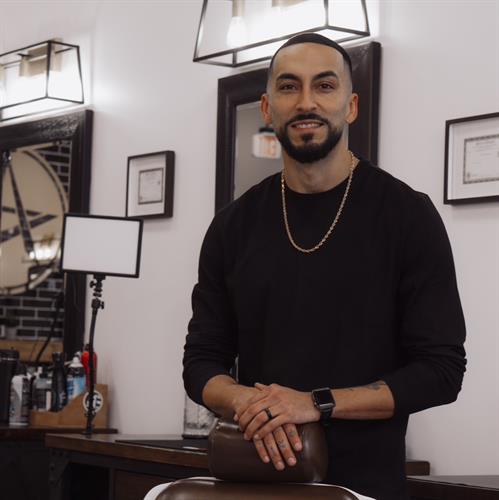 Gunner has been cutting hair for over 11 years. A well rounded barber, Gunner is a skin fade specialist who welcomes any texture or style. He began cutting hair while he was in the US Navy. He continued his career by enrolling in Denmark Barber College and completing the barber and barber educator courses. He is furthering his education as a Barber Educator to pass on his love for the industry to up and coming barbers.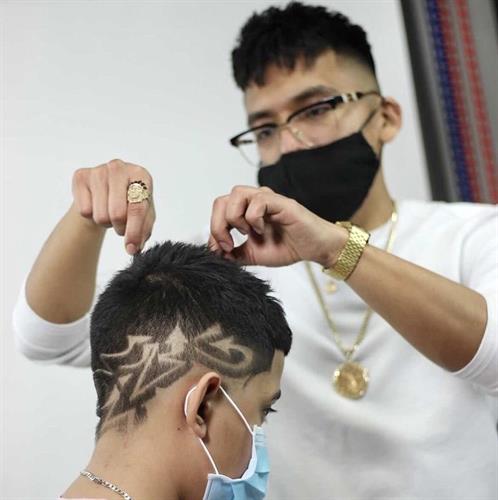 Edson is a professional barber that has been in the hair industry since 2017. Since graduating from Larry's Barber College in 2018, he has continued furthering his skill set by taking multiple educational courses from some of the best hair artists. He is well versed and experienced with any hairstyle, from mohawks, long hair, fades, and graphics. Edson has won multiple awards in this career and hopes to provide the best service to all of this guests behind the chair.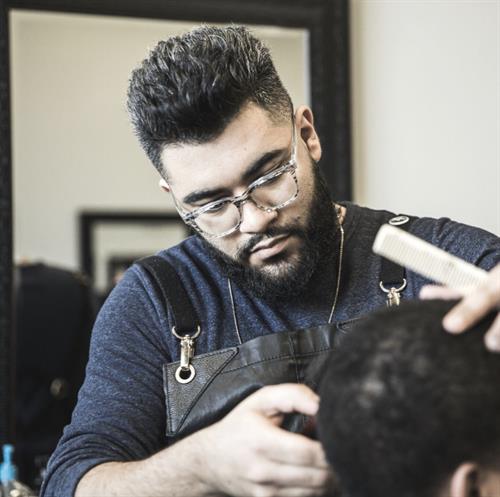 Danny is a modern barber who is up to date on the latest styles and trends. He developed a passion for hair and the hair cutting industry in 2016, and has been perfecting his craft ever since. Over the years he has built a solid foundation working in barbershops and strives to provide excellent customer service. Danny plans to further his education and grow with the industry.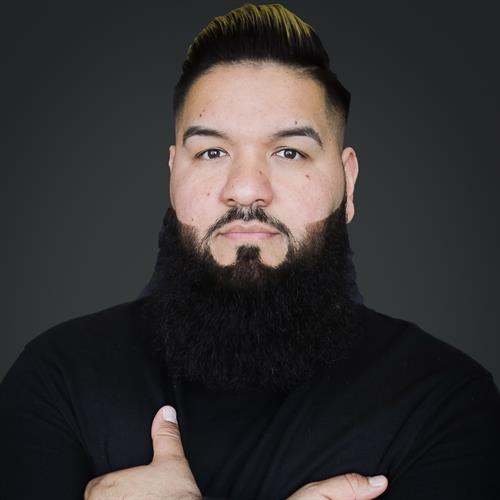 Jesse is a family man, businessman , and entrepreneur. He's been cutting hair for over a decade. He began to trifle with clippers back in high school butchering his own hair and beard. A couple years later he then realized hair was his passion. Jesse graduated from His and Hers Barber School in Chicago, IL. He's taken many courses to further his education and has won several awards in hair competitions earning him the skill and versatility with hair textures. He then pursued the need to help others, graduating from the barber instructor course to guide other upcoming artist unfold their careers. Jesse loves to uplift and inspire those who share the same passion with his years of expertise.