Features
Everything to build and run your business.
Schedulicity is the all-in-one scheduling app that will help you manage your small business. From everyday services and special classes to unique workshops, we've got booking covered.
Small businesses can access our scheduling tools (plus appointment reminders and booking widgets) FOR FREE.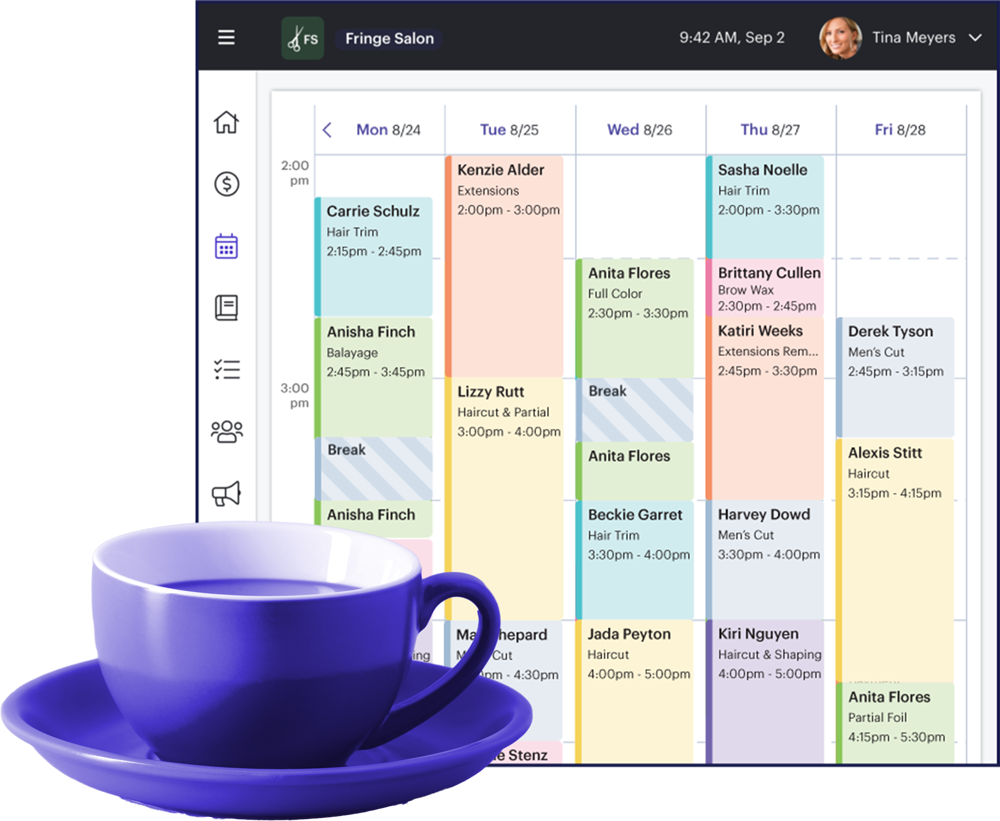 Appointment Scheduling
Online booking has never been easier for you or your clients. Our powerful appointment scheduling software helps you book faster, manage your time better, and sell more. (Bonus points for its streamlined format.)
Keep full control of your calendar with color-coordinated appointment blocks.
Quickly scan calendar icons to spot first-time clients, client messages, waitlist requests, and more.
Update your busy schedule on the fly by flagging no-shows and tweaking appointments.
View your calendar from the dashboard or our mobile or iPad apps between sessions.
Set it and forget it by scheduling recurring appointments for regular clients.
Block a client from booking again if they repeatedly don't show up.
Set Your Own Rules
The best businesses have boundaries. You call the shots with our flexible settings for policies, waivers, and more.
With Schedulicity, you can customize policies for practically anything. Set up waivers before workout classes, require deposits to protect your finances from no-show appointments, and more.
You can also automatically block off your "weekend" or change your availability as needed (hello, vacation!) with our Personal Time feature.
Class Management
Running a local gym or yoga studio? Teaching a weekly art class? Schedulicity was made for you. With our class management features, the only thing you'll have to worry about is teaching your clients.
Add and edit class listings, check in attendees, and mark cancellations on the fly.
Plan ahead by offering waitlists for your most popular times and instructors.
Get instant alerts when someone on the waitlist can fill an empty cycle bike or pilates mat.
Upload and manage waivers to get class started on time, every time.
Encourage clients to invite friends with Group Bookings.
Workshops, Retreats, Conferences, Oh My
From yoga retreats to fitness bootcamps to support groups, our Workshops feature has it covered. Our scheduling software allows you to link classes, clone and republish past events, and more.

Manage Your Whole Team
More locations and providers shouldn't mean more work for you. Our booking app allows you to link multiple employees (or business partners!) at one location — all while keeping everyone's payments and client lists separate.
You can also edit individual bios, images, schedules, and notifications to keep regulars and new clients up to date on who's who.
Human Support
Not all booking software is created equal. In a world of automation and bots, we believe the power of human connection is more critical than ever.
Our customer support team is made up of real people — Schedulicity Rockstars! — who you can call, email, or chat when you need a hand. Because the best "live support" calls for some heart — and a heartbeat.